CHP's New Home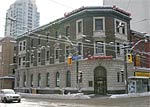 2008 Feb. 07 - Toronto, ON - After months of frantic searching, the Community History Project ("CHP") today announced that it has found a new home thanks to the support and generosity of Scotiabank. The bank has provided the entire second floor of their historically significant building located at 79 Queen Street East effective immediately.

"This is a great day for the Community History Project and for the entire volunteer heritage conservation movement in Toronto!" Former CHP President Jane Beecroft said. "To be housed in such an important heritage building in Toronto is not only fitting but will continue to be an inspiration for our volunteers, and the community, while at the same time a constant reminder of what we are all about."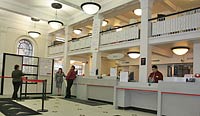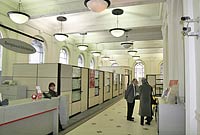 Built in 1913, 79 Queen Street East is one of three Scotiabank buildings designed by architect John Lyle, which appear on the City's Inventory of Heritage Properties. Lyle was also the architect in 1930-31 of Scotiabank's first purpose-built headquarters in Halifax where the bank was incorporated in 1832.

"Scotiabank has a long tradition of supporting the communities in which we live and work", said Scotiabank's Branch Manager. "It's important to us as an organization because it also means a lot to our customers, employees and our many stakeholders. It's part of our culture and it's something that we are very proud of."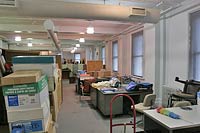 According to Beecroft the new office should be ready to receive visitors by soon. Until then a small army of volunteers will be moving hundreds of boxes and cabinets from their temporary location. The Project was forced to leave its home of twelve years at 719 Yonge Street due to the demolition of the existing structure to make way for a new condo development being constructed at the south-east corner of Yonge and Bloor Streets.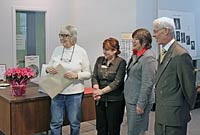 "Without question the offering of this space is one of the most significant expressions of generosity the Project has received in its more than twenty-five years of existence" Beecroft said. "I don't know how to adequately express the gratitude we all feel for what Scotiabank has demonstrated today. This is one occasion where 'thank you' doesn't seem to be enough. In setting the bar at this level, Scotiabank has opened a new era for heritage in Toronto and has once again demonstrated itself one of the leaders in support of the volunteer heritage sector in the City of Toronto."

Additional background re CHP's new home search can be found by clicking on the following links. Unfortunately, copyright laws and the refusal of the major networks to grant permission without payment prevent our displaying some of their televised news clips. We're eternally grateful that some corporatie citizens, such as ScotiaBank, are significantly more supportive.
Urgent: Urban philanthropist needed for Community History Project (www.spacing.ca, Jan. 09, 2008)
History in Search of a New Home (The Toronto Star, Jan. 12, 2008 - images available only in printed version)
Bank is White Knight for Heritage Group (The Toronto Star, Feb. 08, 2008)
A chance for province to come to the rescue (Letter to the Editor, The Toronto Star, Feb. 11, 2008)