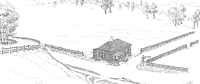 Wish List - Current & Future Friends Please Note:
Museum Docent positions available at the cottage. We need a few more fabulous Docents to introduce our visitors to life at the cottage in mid 19th century.

For CHP:
To make communication far more effective and efficient, Internet access would be absolutely fabulous!

Other Support:
contact us by email or phone the Community History Project at 416-515-7546 to leave a message.

If you'd like to support the project financially (and we hope you do!), please print, complete and mail this donation form along with your cheque, or contact the CHP offices with any questions you might have.


A Community History Project site