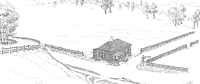 Wish List - Current & Future Friends Please Note:
Museum Docent positions available at the cottage. We need a few more fabulous Docents to introduce our visitors to life at the cottage in mid 19th century.

For CHP:
Space required for storage, or work.


Other Support:
contact us by email the Community History Project

If you'd like to support the project financially (and we hope you do!), please print, use our new interac donation process , or contact the CHP offices with any questions you might have.


A Community History Project site