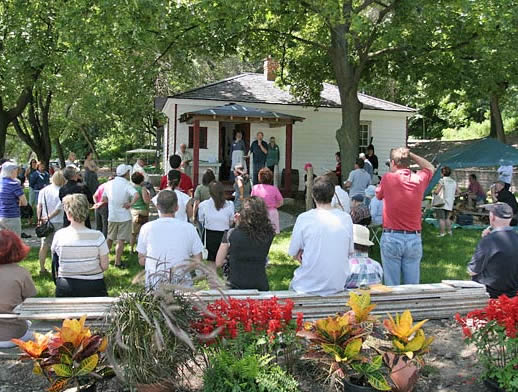 The Tollkeeper's Bulletin
(cursor over to stop scrolling)
 Open Saturdays from 11am to 4pm.
TWO DECEMBER EVENTS
GHOSTLY EVENING
SATURDAY DECEMBER 9 AT 7:00 PM  
The Victorians became 
very interested in the
 supernatural world, 
through seances, ouija
 boards, mediums and 
ghostly stories. They 
considered Christmas
 a suitable time to tell 
these stories; hence,
 A Christmas Carol by 
Charles Dickens. 
Come to hear some spooky 
tales and share some 
unexplained happenings of your own. 
 COOKIE DAY 
 SATURDAY DECEMBER 16 
from 11:00-4:00.
COME TO THE TOLLKEEPER'S 
COTTAGE WITH YOUR CONTAINER
 TO STOCK UP ON COOKIES 
TO GET YOU THROUGH THE HOLIDAYS.
 BAKED ITEMS MADE BY OUR 
DEDICATED VOLUNTEERS.
Still $1.00 per cookie! 
Cash or e-transfer.
It'll be an opportunity 
to pick up some cozy 
knitted items, dryer balls, 
door snakes and other 
useful gift items.
This event will be crowded, 
so please be aware that
 we are MASK FRIENDLY!
The Community History Project
 (Tollkeeper's Cottage)
 is looking for a 
VOLUNTEER TREASURER who will
 have the support of a bookkeeper.
 Among other things, we would 
like the treasurer to develop
 an annual budget and financial
 policies and procedures for us,
 provide reports as necessary,
 and attend monthly Board meetings.
 The position begins immediately. 
If you are that person, 
or know anyone, please
contact us at tollkeeperscottage@gmail.com. 

THE TOLLKEEPER'S COTTAGE WALKS
 ARE BACK!
Hello Walkers
At this time of year 
we can't give you too much
 advance notice of our walks,
 because the weather can't 
promise good walking weather
 far in advance..
Send us a note to be put on
our list or keep watching here.
Our walking tours are a benefit of
 membership in the Community History 
Project.
 Members may go on any or all of our walks
 – and bring a friend! Not a member?
 That is easily remedied. Membership 
is $20/year ($35 for a family) and 
entitles you to an income tax receipt. 
You can pay by e-transfer to 
tollkeeperscottage@gmail.com, or 
bring cash or cheque to your first walk 
– or in advance when you visit us some 
Saturday at the museum.
 (Cheques to Community History Project.)
WE HOPE TO BE WALKING WITH YOU SOON!
~~~~~~~~~~~~~~~~~~~~~~~~~~~~~~~~~~~~~~~~
RAMP AND ROOF: If you've walked or cycled past the Cottage lately, you've seen workers on top! YES, we have a new roof! using cedar shakes, nailed in by hand.
OUR FORMERLY WEAK AND UNSTABLE RAMP HAS BEEN PARTLY REBUILT: thanks to volunteers Tony and Margaret Reyes, Max Gross and Board Member Ed Janiszewski. Thank you for helping us to remain securely wheelchair accessible.
THE DETERIORATING TOLL GATE HAS BEEN REBUILT: If you peak through the construction fencing, you'll see a freshly painted sparkling white toll gate, rebuilt thanks to our Board Member Bill Kindree and former Board Member Terry Marescaux. Great work!

.Our membership year is now January to December. Your membership fee of $20 individual or $35. per family will get you one whole year of membership, voting at the Annual Meeting in March or April, and an opportunity to run for the Board of Directors. Any questions, please email us at tollkeeperscottage@gmail.com.
   There is a sign cottage open , on the lawn when the cottage is open..
Take a tour of the cottage..
Jane Beecroft our founder, passed away Oct  10 2021.
We have some slide shows on the site!. Please check them out here.

We also added two little buttons next to this scroller so you can go back if this scroller is too fast for you!


Please keep us in mind during this season. If you would like to make a donation or pay a membership fee, you can now do it in the modern way online! We can now receive an e-transfer at our email address! Donations and membership fees will receive an income tax receipt in February.
Send us an Email to tollkeeperscottage@gmail.com . Thanks for your support..


The Community History Project that manages the Tollkeeper's Cottage Heritage site has various collections of materials in its archives focusing on local history, places and people. We have restored and run the cottage museum for 12+ years and our not-for-profit; charitable organization.


We can still use help of our supporters in the heritage community in locating a more permanent, more economical space of 500 to 1000 sq feet to house our collections or your help with increased donations to help pay for the temporary storage.



Now on Twitter...



Educational class tours (in English or French) or Educational adult tours can be arranged. (teachers and administrators may wish to print out the brochures referenced)

The Tollkeeper's Cottage
The oldest structure
of its kind in Canada - now
a museum about tolls, roads,
and nineteenth century life
owned, restored and operated
by the
Community History Project
(now a charitable organization).

Located at the corner of
Bathurst St. and Davenport Rd.

(Toronto, ON)
in The Tollkeeper's Park.


Community groups can use the space for meetings also

Look for the Blue Canoe near our commemorative birch trees. Thanks to the wonderful people at City of Toronto Parks Department, the David Suzuki Foundation, and the Mississaugas of the Credit for making this possible.

There are gift-type items for sale at the museum such as: books on local history, hand-made pure soap, knitted wear, walking tour guides, recipe collections.

We have Tollkeeper's Cottage Tee shirts for sale
We have just started selling hand-made dolls' clothes suitable for American Girl and other 18 inch dolls.


Volunteers wanted eg we need a spinner volunteer-- so people can watch us spin yarn.

See a video tour and a virtual tour of the Cottage
_END OF BULLETIN (will repeat)_ (cursor over to stop scrolling mouse-over buttons speed/reverse scrolling >)